Finding a contractor you can trust is always a challenge. Everyone says they are the best but how do you really know if you can rely on them. They say the best way to find a contractor you can trust is to get a referral from existing customers.  At myLaborJOB.com we think that is a great idea. That is why we offer customer reviews on all of the home improvement contractors on our site. One thing we have found is that if someone provides bad service customers will not hesitate to offer up a negative review.
While we prefer to have customer reviews do most of the talking, sometimes we like to highlight a few contractors from the myLaborJOB.com directory that show great promise. Here are some providers that we think deserve special mention.
Clean and Shiny Homes of Bradenton FL
providing House Cleaning

Clean and Shiny Homes is a licensed, insured and bonded company that offers professionalism, honesty, reliability and loyalty at competitive pricing. Primarily operating in residential properties we also clean offices and rental/vacation homes.
Located at myLaborJOB Clean and Shiny Homes
Visit the Clean and Shiny Homes website
HO Electric of Belmont MA
providing Electrical services and more

Electrical, Heating-Ventilation, Air-Conditioning, Fans-Ventilation, Plumbing, Hot-Tubs, Appliance-install-repair, Bathroom-remodel

H.O. Electric is your residential Electrical, Plumbing, Heating, and Cooling Specialist. We are an electrical contracting company providing homeowners the best electric repair service in the Greater Boston area. We service Greater Boston, North Shore, South Shore, Metro West, and everywhere in between with fast same day service. If you are looking for an electrician for your project, remember: big or small, H.O. Electric does it all.
H.O. Electric is a full-service, licensed, and insured company. We have been expertly serving the Greater Boston area since 1990. Our Award-winning electrical company provides same day service, up front pricing, a 100% satisfaction guarantee, and the best warranty available!
Being one of the few true family owned companies, we thrive on repeat and referral business. We are thankful to our wonderful customers that keep calling us back for additional work. We are fortunate to have a team of ethical, customer-oriented professionals. Our employees are people who are highly motivated and skilled at what they do; they bring excitement and ambition to our company. This is what makes us "Greater Boston's On-Time Electrician"!
Located at myLaborJOB HO Electric
ABI Handymen llc of Shawnee OK
providing Home Remodeling Repair Services
Bathroom-remodel, Handyman, Carpentry, Home-Additions, Kitchen-Remodeling, Remodeling-Room-Additions, Painting, Siding

ABI Handymen llc. is a full service handyman, remodel and repairo services company. We have completed projects in the State of Oklahoma, and pride ourselves in exceeding our customers' expectations through effective communication, quality of work and attention to detail. We schedule all jobs from start to finish and accommodate to your needs. We are proud of our no pressure, honest and trustworthy approach.
Are you planning a large or small project? Or do you have a simple task that needs to get done at your home or business? Save money and take advantage of our guarantee!
Located at myLaborJOB ABI Handymen llc
Visit the ABI Handymen llc website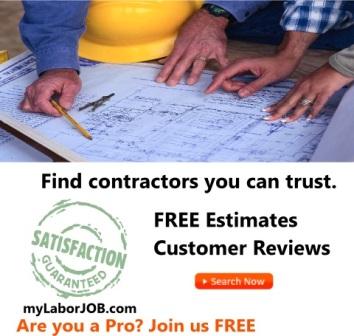 Bullseye Remodeling Inc of Saint Paul MN
providing Home Remodeling Repair
Remodeling-Room-Additions, Bathroom-remodel, Kitchen-Remodeling, Decks, Carpentry, Siding, Garages-outbuildings, Home-Additions

We are a Home Remodeling in St. Paul, MN specializing in all sorts of Home Improvement projects offering personalized and unique service.
" We aim please" is our motto and that is what we do!

Located at myLaborJOB Bullseye Remodeling Inc
Visit the Bullseye Remodeling Inc website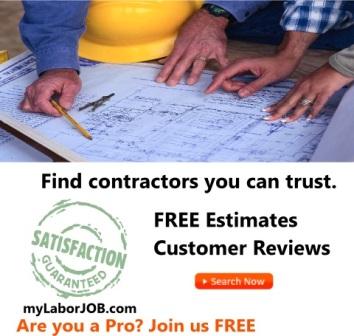 SE Johnson Painting of Massillon OH
providing Painting
Detail oriented full service painting company that puts our customers first.
Located at myLaborJOB SE Johnson Painting
Visit the SE Johnson Painting website
Rogelios Floors of Dallas TX
providing hard wood flooring
Rogelio Longoria has been serving the Dallas Metroplex and its surrounding areas (Plano, Richardson, Rockwall, Garland and many more) for almost twenty years. Specializing in Hardwood floors:
Repairs, Installation, Sand & Finish Handscrape/Distress Finish, Shoe-mold, Laminate Flooring
Iif you want to give your house a new look by taking out the carpet or the existing tile and want Hardwood Floors at a low affordable price and done right, Give Rogelio Longoria a call.
Located at myLaborJOB Rogelios Floors
Visit the Rogelios Floors website
Simply Plumbing of South Royalton VT
providing Plumbing

Plumbing, Heating-Ventilation, Pools, Bathroom-remodel, Kitchen-Remodeling

Simply Plumbing provides high-quality, plumbing and heating services to South Royalton, VT and the entire state of Vermont. With more than 20 years plumbing experience, we have the knowledge and expertise to handle any and all repairs, installations and maintenance to both residential and commercial customers. We offer same day or next day service. Call us, "When You Simply Need A Plumber!"
* Plumbing – Sink repair, faucet installation, drain cleaning, bathtub installation, toilet repair, service pipes, sewer line repair, water heater repair, water softeners.
* Heating – Baseboard heating repair, baseboard heating installation, radiant heat repair, radiant heat installation, clean boilers, install boilers, boiler systems
We guarantee and stand behind all of our work.
Located at myLaborJOB Simply Plumbing
Visit the Simply Plumbing website
Service you can trust!