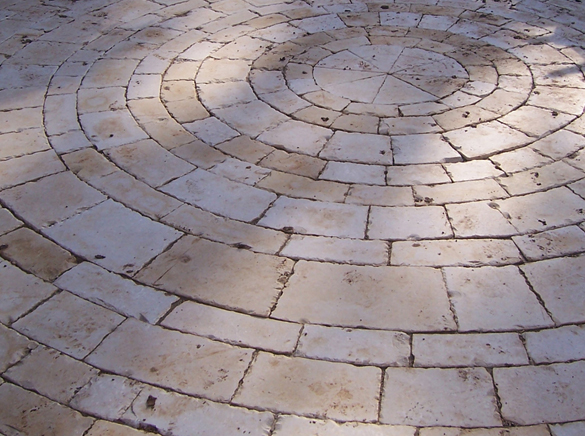 A beautiful, enduring enhancement to your backyard or entryway landscape is the use of brick or stone. Patios and pathways made from brick and stone are an architectural asset, and will beautify, while adding value to your property.
When selecting materials, and the method of installation there are a few considerations.  In this article (part one of a two part series) we will explore considerations regarding material options.
Here is a simple rule to follow; utilize materials that are common to the environment around your home, or your homes exterior. For example, if your home has a brick facade, using a similar brick for a pathway would make good visual sense. If there is an outcrop of stone on the property, or nearby stone walls, using the same stone for your patio would be a beautiful and logical accent.  Sometimes brick and stone are mixed to create a certain 'look', and although it can be done and often done well, keep in mind that in good landscape design; too many different visual/textural themes will become distracting, and actually detract from the beauty, and value of your landscape design.
If choosing stone, consider the stone's natural durability under foot, in heavy traffic.  Also, how it will interact with water, and ice.  Some stone may have a rugged textural surface which would be an asset to safety when it became wet, or iced over.  Other stone types may have an even, smooth surface that would become a slick, and slippery, even dangerous to walk on when it became wet or iced over.
Also consider the shape of the stone, if it will meet your design needs, or will it require cutting to shape and size.  Working with stone 'as is' without cutting and shaping is the most cost effective, and labor saving.
Brick has been manufactured from clay for centuries.  However, today's brick is made up of everything from crushed stone, to concrete and can be extremely durable.  Working with brick eliminates some of the challenges of working with stone. Brick is generally lighter in weight, more standard in size and color, and being more predictable by design, it can be set sequentially, and more rapidly.
Joining the brick or stone together, and setting it into position can be accomplished with many material options.  For an enduring bond, wet mortar is best.  For ease in installation, with less labor related costs, a dry mix of coarse sand, or crushed stone with masons cement is best.  Or for a natural, 'earth friendly' approach, soil integrated with grass or clover seed is both, and economic.
When selecting a contractor for hard-scape improvements such as this, go to:  http://la-laborjobs.com/handyman/ This is the best place to search for someone with the qualifications and skills needed to perform this sort of work
However if you choose to perform this work yourself, Part 2 of this series will provide you with some helpful advice and solid direction needed for a successful home improvement project.
If you are looking for a professional contractor to help you with your project check out http://www.mylaborjob.com/find. It's always free to use and you can find trusted local contractors for any kind of project.
Stay connected and informed. Like us on Facebook http://www.facebook.com/mylaborjob Special offers and insights posted regularly.